Third License Plate: Reliable Vehicle Identification
SCHREINER PRINTRUST
Third License Plate: Reliable Vehicle Identification
Tax losses, car thefts, security risks: Vehicles without legal registrations cause enormous damage worldwide, requiring actions to deter and provide accelerated proof of fraud and misuse. Schreiner PrinTrust has developed a security label for windshields. It is equipped with NFC and UHF-RFID as well as security features and, as a Third License Plate, guarantees reliable authentication. For DKT Deutsche Kennzeichen Technik GmbH, Schreiner PrinTrust developed a special, customized version.
Conventional metal license plates can easily be stolen, copied and illegally reused. Schreiner PrinTrust's Third License Plate complements such plates attached to the front and rear of a vehicle. As a security label applied to the inside of the windshield in the protected cabin, it is safeguarded against theft and tampering and bears the vehicle data issued by the registration authority. In addition, it features protective mechanisms against tampering and counterfeiting. As a result, proof of registration is protected against illegal access.
Additional RFID Function
The Third License Plate can be additionally equipped with RFID. Besides the registration data individual information can be stored on the chip and read in a contactless process, which makes other applications possible such as parking or toll collection. Long-range UHF-RFID technology is used for these purposes. The combination of UHF for long ranges and NFC for short-range readability using smartphones is a particularly innovative solution which Schreiner PrinTrust developed for DKT. In this label, two chips are used simultaneously: UHF-RFID and HF-RFID/NFC.
Functionality and Security with ((rfid))-3rd License Plate Hybrid UHF+HF
In addition to secure vehicle license plates, DKT delivers smart solutions and systems for vehicle registration and identification as well as traffic control systems and innovative traffic safety concepts. In the area of vehicle identification, DKT relies on the Third License Plate from Schreiner PrinTrust.
By combining the two RFID technologies, UHFRFID and HF-RFID/NFC, in one security label (hybrid license plate), the new ((rfid))-3rd License Plate Hybrid UHF+HF provides particularly high flexibility in the area of unique vehicle identification and opens up all-new opportunities in vehicle monitoring to law enforcement authorities.
The integrated UHF-RFID chip enables reading of data from a distance of several meters in moving traffic. Using special readers, the ((rfid))-3rd License Plates are read on a moving vehicle in real time and matched with the corresponding database. Queries include status information such as "correct registration," "taxes paid" or even "theft," and more. This information can be displayed by means of advanced traffic technology or provided to local law enforcement authorities for checking purposes using mobile solutions.
Other opportunities result from HF technology that's additionally integrated in the Third License Plate in the form of an NFC chip, which now even makes it possible to check vehicles using commercially available smartphones. Nearly all current smartphones have NFC readers enabling numerous new applications via innovative apps with respective approvals by authorities or licensors.
RFID
RFID stands for Radio Frequency Identification, a technology for wireless data recognition without line of sight.
RFID Technologies and Ranges
UHF (Ultra High Frequency): 1–15 m
HF (High Frequency): 1–40 cm, this includes
NFC (Near Field Communication): 1–5 cm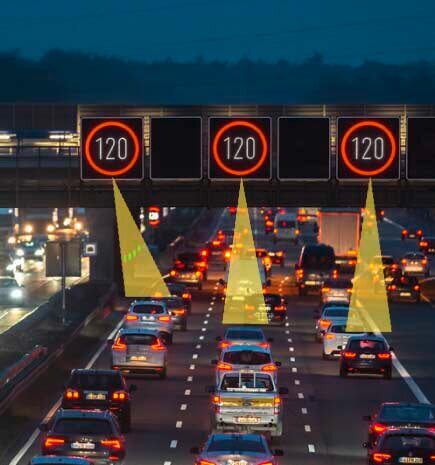 "The vehicle data captured at the time of registration and during the operation of a vehicle are becoming increasingly important—be it for roadside checks, in the event of accidents or for periodic vehicle inspections," says DKT's CEO Bernhard Gött. "With the combined UHF-RFID and NFC function in the Third License Plate behind the windshield, these data can be read in various ways and matched with a country's vehicle database. This enhances the security of vehicle registrations, improves traffic safety and ensures high levels of flexibility when checking vehicles."
Summary
With the ((rfid))-3rd License Plate Hybrid UHF+HF, vehicle data can either be read remotely and in moving traffic using RFID readers or at close range by means of smartphone apps. Reading data in moving traffic enhances transparency due to unique vehicle identification, for instance in the areas of crime and terrorism prevention. Smartphone-based reading on the other hand reduces complexity and provides a wider range of possible uses because there's no need to purchase readers.