The World of Printed Electronics
SCHREINER GROUP
The World of Printed Electronics
What Is Printed Electronics?
Printed electronics refers to a combination of conductive materials as well as paint and ink systems that are applied to large areas of film/foil, paper, or other substrates in several layers and at low cost. Printed electronics performs some of the tasks of conventional electronics but offers special processing options. Conductive tracks, resistors, or other technical functions are achieved by die cutting of metal films or by screen printing of silver and carbon pastes, resulting in products such as antennas, heating elements, multifunctional user interfaces, or (touch) sensors.
What Benefits Does Printed Electronics Offer?
Creation of transparent and opaque electrically conductive structures
Strong, ultra-thin, flexible, lightweight, and translucent
Automatic or manual application: self-adhesive or non-self-adhesive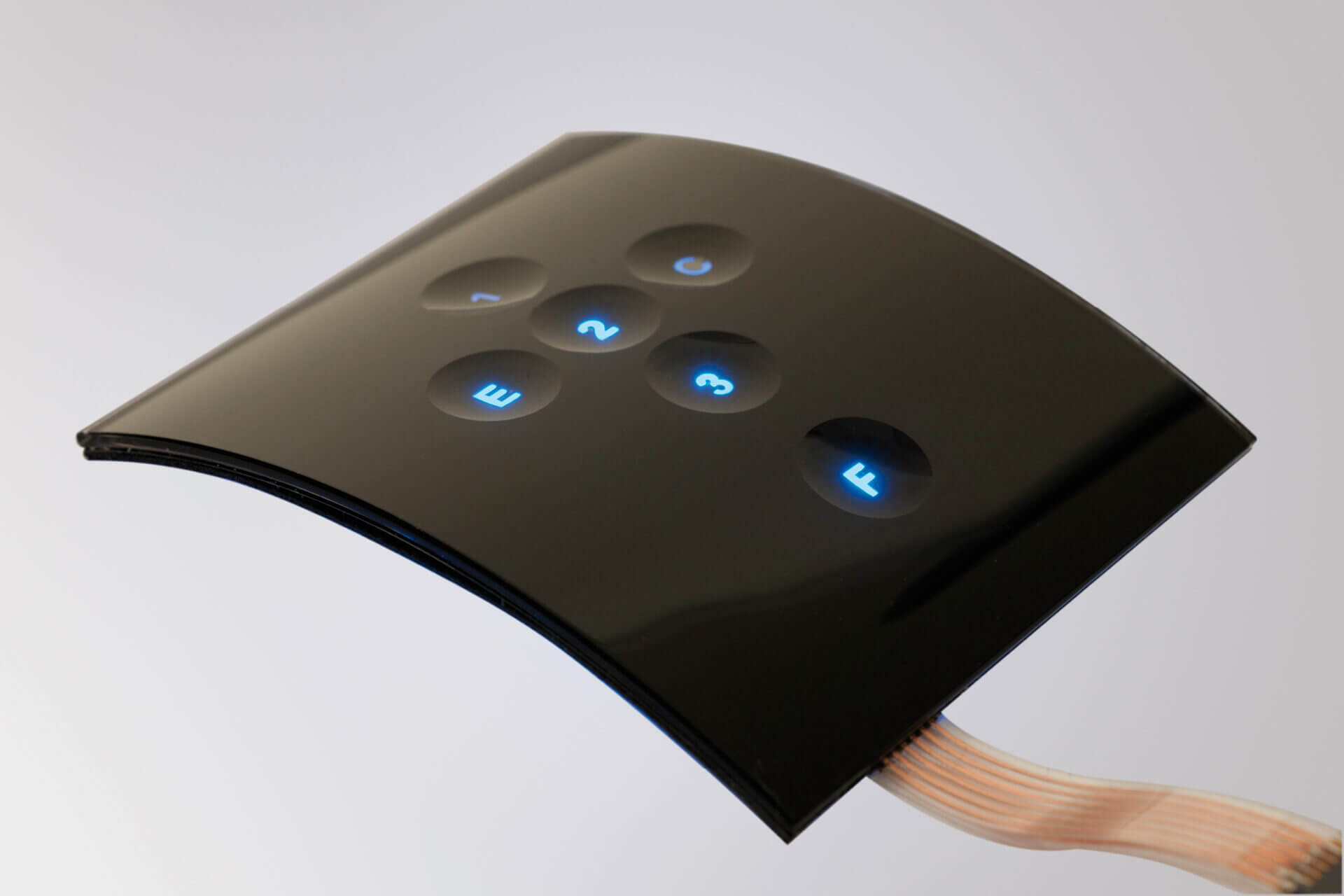 Contacting by connector, crimping, or spring contacts—optionally with additional corrosion protection
Use of different films/foils with diverse properties available (e.g., PI/PET)
Easy product integration due to self-adhesive coating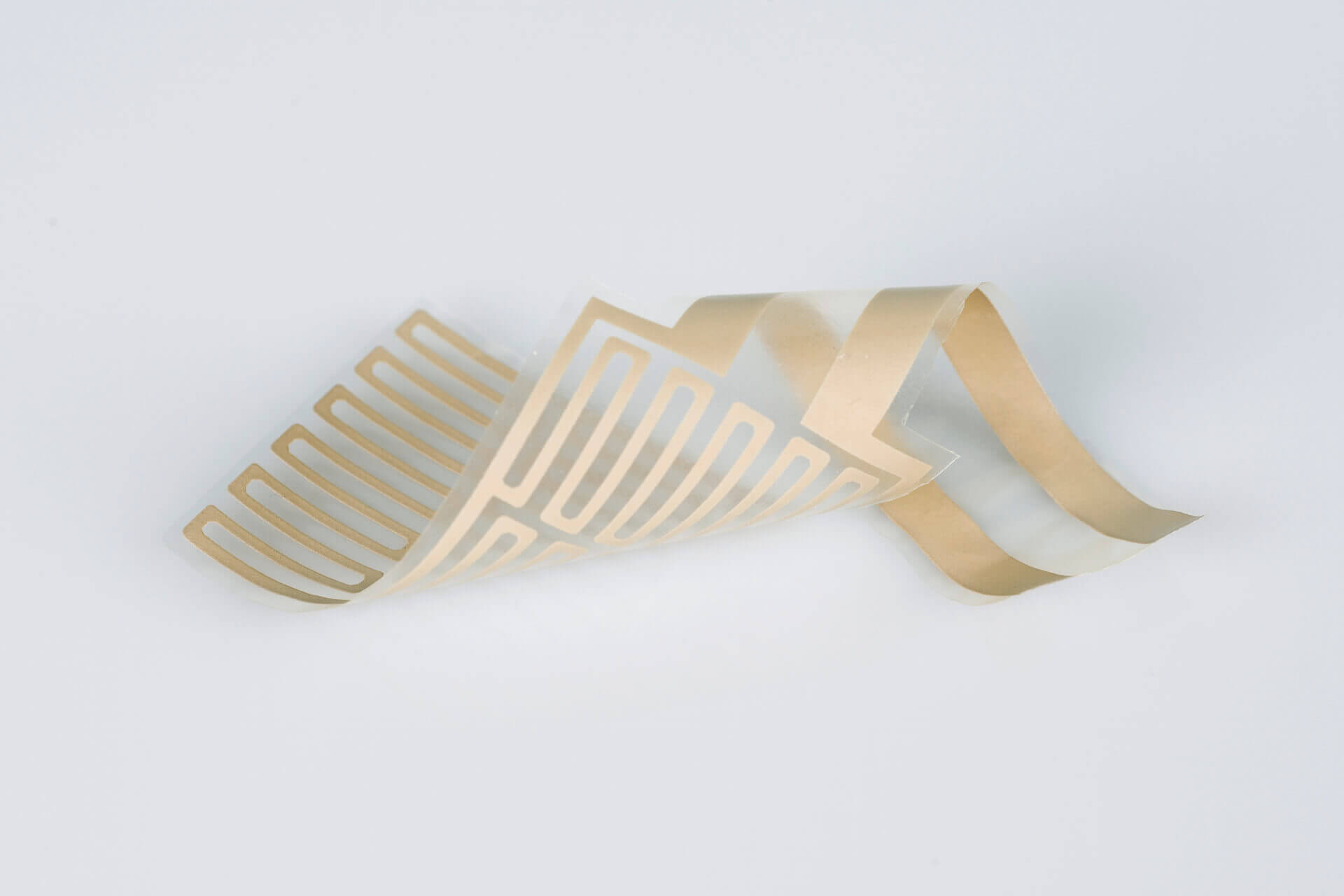 Translucent (left) and very flexible (right): These are just two examples of many benefits that printed electronics offers.
What Are Areas of Development in Printed Electronics?
The printed sensor platform is an example of a particularly successful development by Schreiner Group. Using printed conductor tracks, it combines a temperature and first-opening sensor with an NFC chip. Due to a printed NFC antenna, the chip can be read with smartphones that are equipped with suitable technology. Since the label has been developed for roll-toroll processes, it provides perfect prerequisites for automated downstream processing. In addition, our Research and Development team in the context of printed electronics is working on the integration of functionally conductive structures, chips, LEDs, as well as flat and flexible batteries.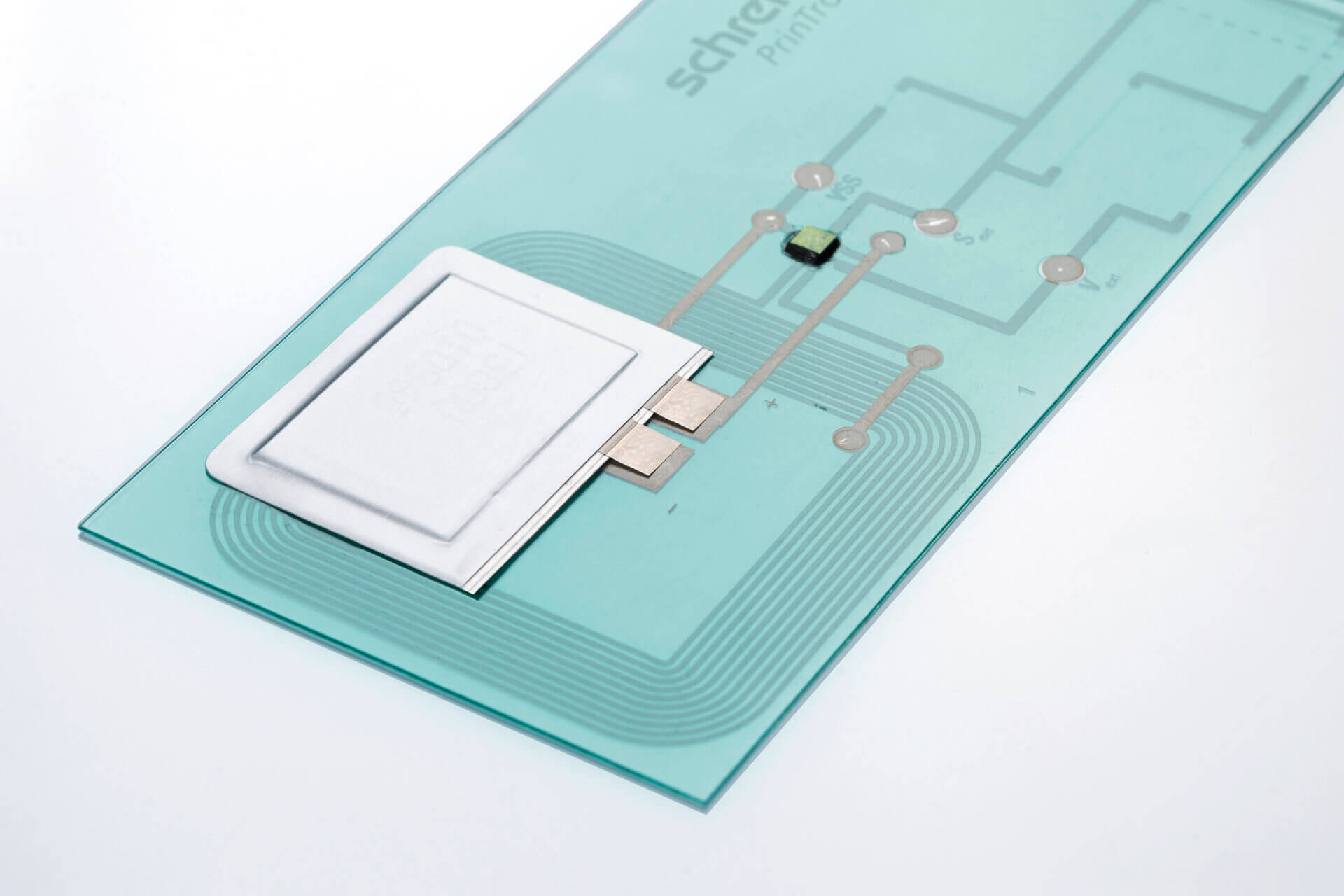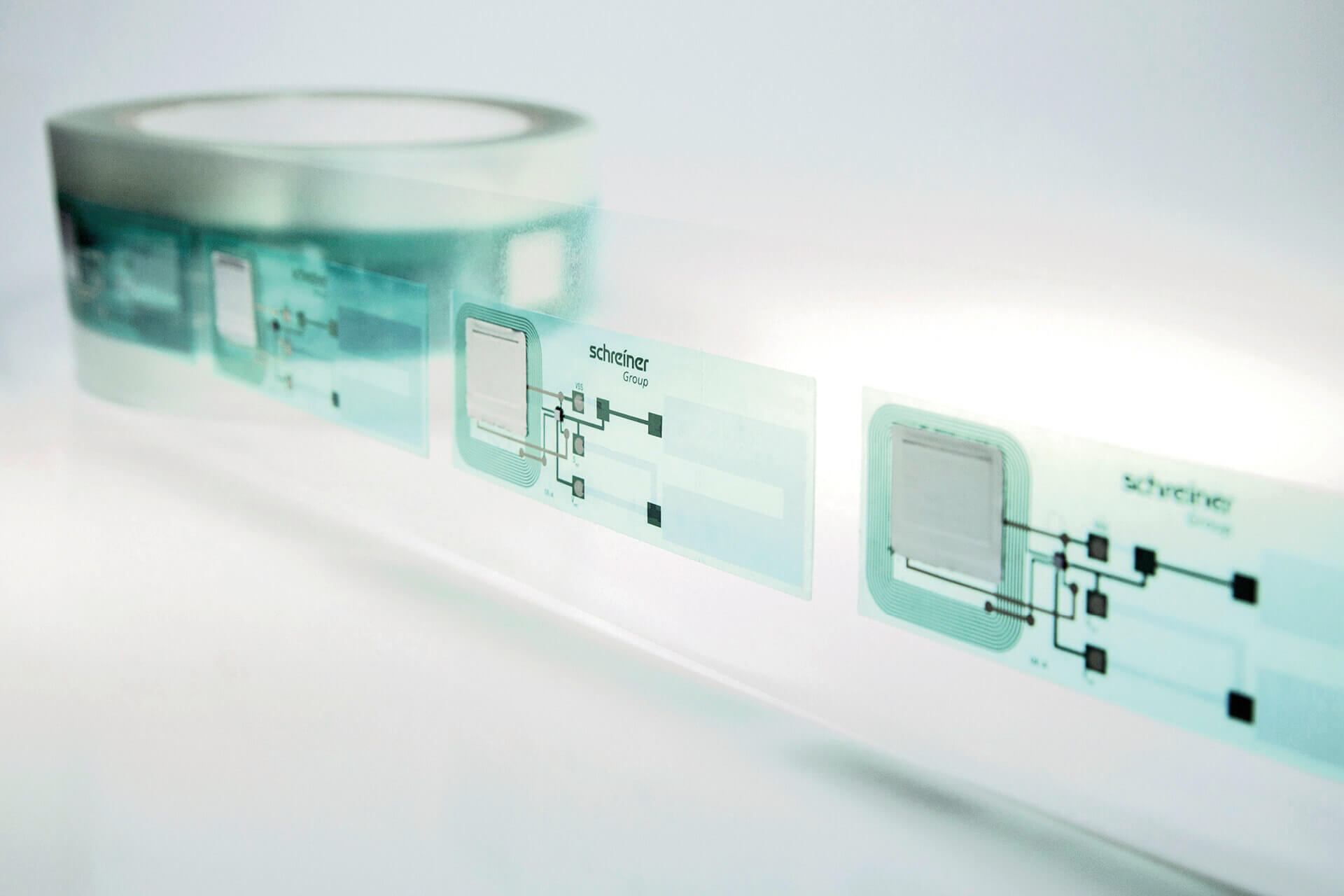 A complex label with electrical functions: When the printed sensor platform from Schreiner PrinTronics won the first-place award in an OE-A Competition in the "Prototypes & New Products" category, the judging panel's laudatory comments emphasized the fact that the RFID sensor platform far exceeds the prototype stage and was explicitly developed for roll-to-roll processes.
How Can Printed Electronics Be Combined with Conventional Electronics?
Contacting of printed and conventional electronics is achieved by adhesive bonding, crimping, or plug connections. This ensures high conductivity in spite of minimal film/foil composite thickness. In addition, the technology know-how of our experts assures corrosion protection at the contact points to guarantee homogenous and stable functionality throughout the product's lifetime.
What Specific Customer Applications Exist for Printed Electronics?
With printed electronics the film or foil remains lightweight, thin, and flexible—one of the basic prerequisites for space-saving installation in a wide variety of products for diverse markets such as the pharmaceutical industry, automotive, and cards and payment.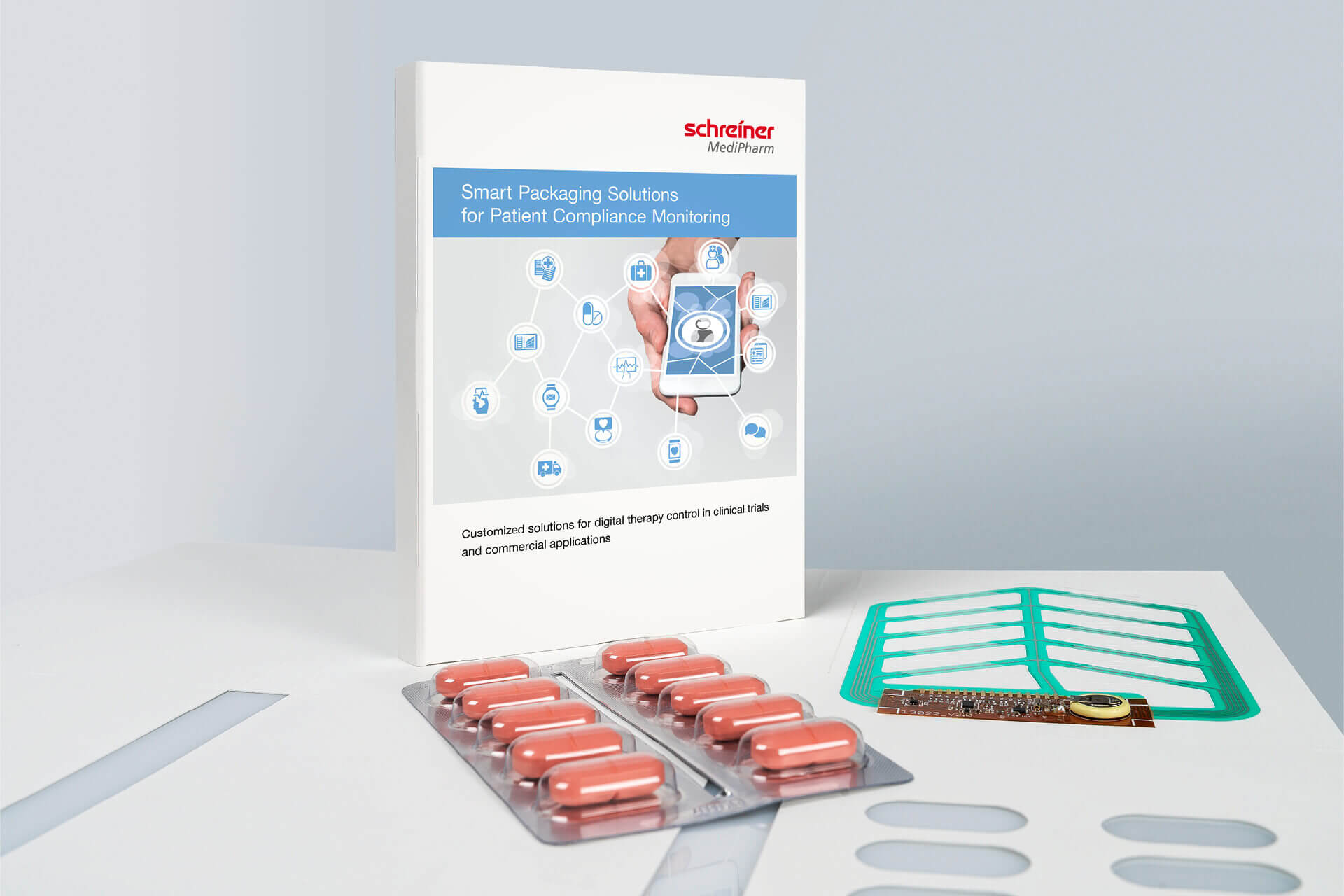 Who Are the Experts in Printed Electronics at Schreiner Group?
In addition to three business units, five competence centers focused on specific technologies and their further development operate under the Schreiner Group umbrella brand. Schreiner PrinTronics led by Johannes Becker is the competence center for printed electronics. It is closely connected with the Schreiner LogiData competence center that specializes in communications technologies with RFID and NFC—enabling the development of smart total solutions for customers.
Schreiner PrinTronics draws on in-depth know-how in printing of silver and carbon, insulation, die cutting of metal foils, as well as contacting and industrial roll-to-roll processing. Based on printed electronics, the exerts from Schreiner PrinTronics develop and implement particularly thin, flexible, and multi-layered film and foil products for electrical conduction, switching, measuring, and controlling. The basis for this work includes an extensively equipped measurement laboratory and pilot plant for qualifying materials and products, among other things.