Sustainable Solutions for the Healthcare Industry
SCHREINER MEDIPHARM
Sustainable Solutions for the Healthcare Industry
The annual German Sustainability Award has been presented since 2008. However, the term "sustainability" itself is more than 300 years old. It has its origins in forestry, where it appeared in Hans Carl von Carlowitz' treatise "Sylvicultura Oeconomica" in 1713. Today, the term has a much broader meaning. Sustainability and environmental protection have become integral components of business policy—across all sectors. With its product solutions for the healthcare industry Schreiner MediPharm significantly helps meet the demands of this corporate social responsibility as well.
Many pharmaceutical companies have defined respective standards and goals with an eye on the entire supply chain in order to enhance products and processes in terms of sustainability. Aspects such as environmental management, workplace health and safety as well as compliance with applicable laws and regulations are becoming increasingly important criteria for supplier evaluations.
At Schreiner MediPharm, sustainability begins as early as in product development, which takes all lifecycles into account. Only raw materials from selected suppliers are used and all ingredients are tested for compatibility with environmental and health criteria before being processed. The proportion of packaging is minimized and recyclable materials are primarily utilized.
Intelligent product design is the key to sustainable product solutions.
A product example of a solution with a reduced environmental footprint is Needle-Trap: the label for prefilled syringes with an integrated needle trap providing protection against needlestick injuries. Compared to conventional needle protection systems, Needle-Trap features a very compact design so that there is no need to modify the secondary packaging. Consequently, the product uses minimal space during transportation, storage and disposal, which not only saves costs but also reduces the environmental impact. Generally speaking, innovative functional labels for primary containers can make a contribution to sustainability. Booklet-Labels are a case in point: The multi-page product information is printed on particularly thin paper and directly affixed to the product in a compact way. Digital solutions and label-integrated codes can even completely replace printed medication package inserts.
With its intelligent, customized solutions for the healthcare industry Schreiner MediPharm pursues a specific objective: the proactive development of innovative products that additionally assist pharmaceutical manufacturers in implementing their sustainability goals.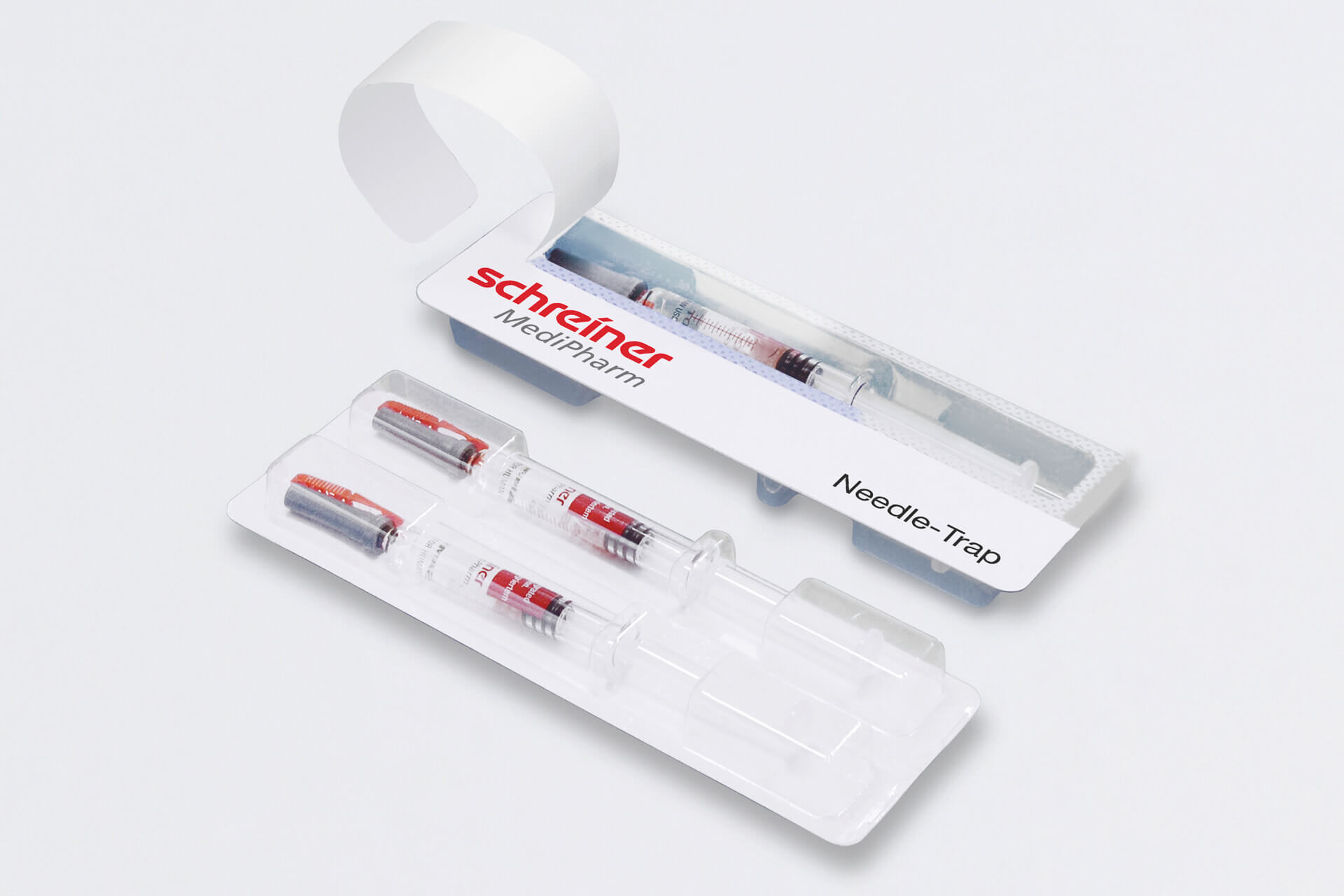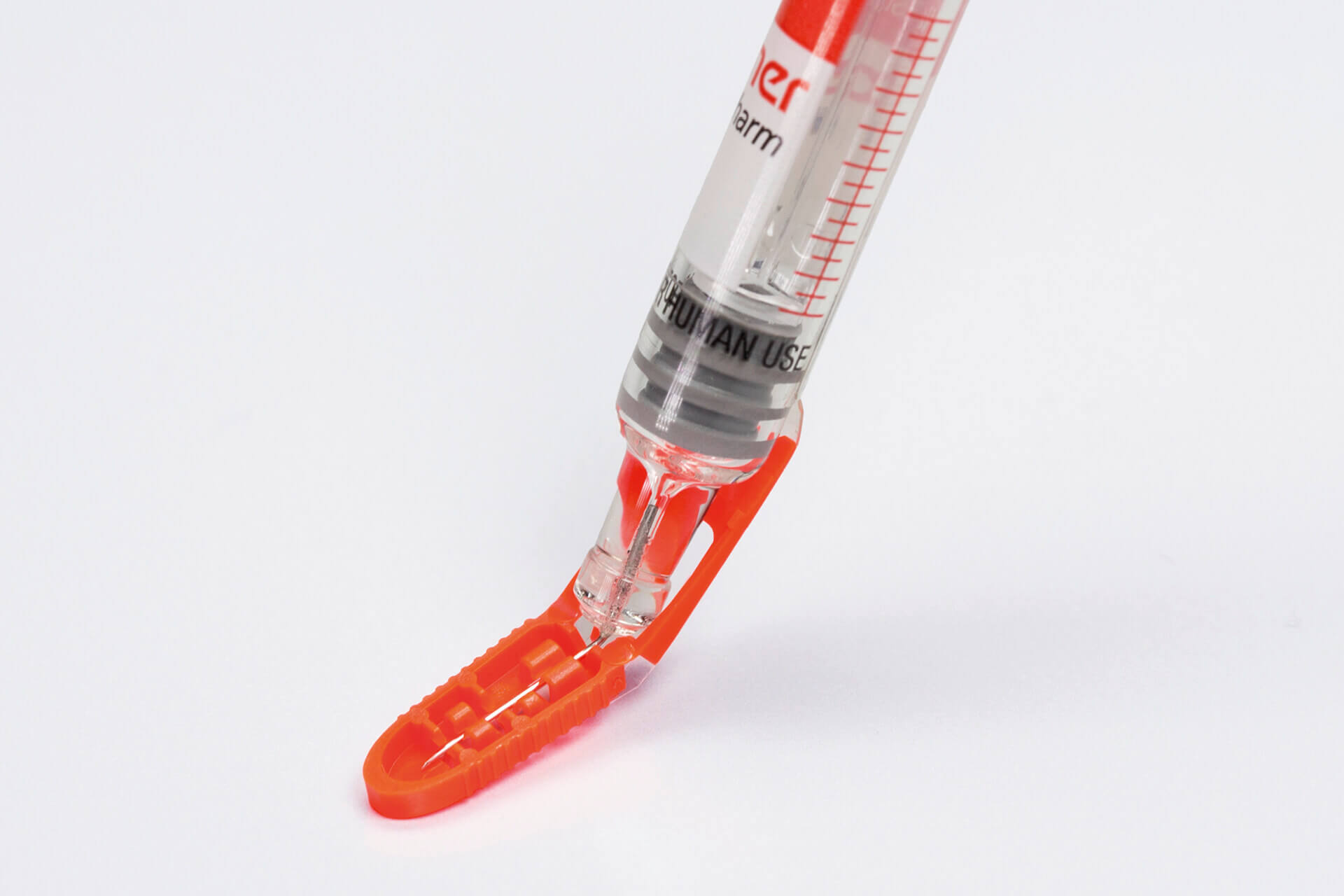 Needle-Trap—the label for prefilled syringes with an integrated needle trap for protection against needlestick injuries—exhibits a reduced environmental footprint compared to other needle protection systems.
Sustainability Report
Schreiner Group has been consistently acting in the spirit of sustainability for many years. In all business units and processes, attention is paid to energy efficiency, reduction of CO2 emissions and conservation of resources. High quality standards and Environmental, Health and Safety certifications (EMAS, ISO 14001, ISO 45001) underscore this commitment. EcoVadis, the leading provider of sustainability assessment services, has awarded a Gold rating to Schreiner Group. Since 2017 the company has been ranked in the top three percent of all companies evaluated by EcoVadis.
Learn more about Schreiner Group's commitment in the 2020 Sustainability Report.