Self-Adhesive Plates for Small Motorbikes
SCHREINER PRINTRUST
Self-Adhesive Plates for Small Motorbikes
Small motorbikes such as mopeds provide a space-saving, low-cost and flexible form of mobility. However, in Germany, for instance, owners of small motorbikes have been required to change their metal plates every year to prove that their liability insurance is still valid. The application of such plates involves considerable time and effort. Now, Schreiner PrinTrust has developed a film-based sticker as a robust, weather-resistant, eco-friendly and easyto-apply alternative to metal plates.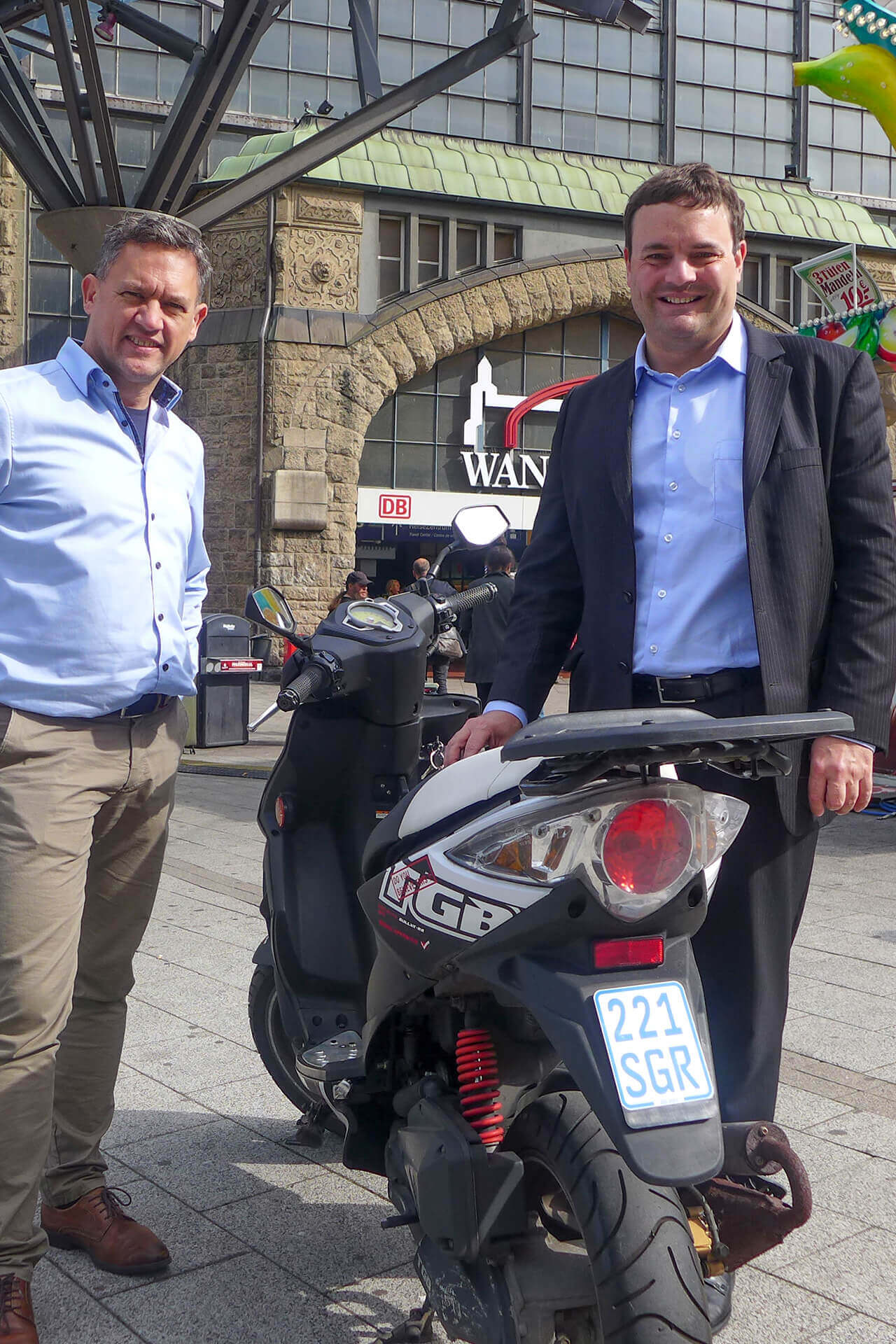 In August 2020, the Federal Ministry of Transport and Digital Infrastructure (BMVI) together with the Federal Ministry of the Interior, Building and Community (BMI) issued a derogation providing for a test phase to determine if aluminum plates may be replaced by stickers. Such stickers have been available on the market since March 1, 2021 for a pilot period of three years. Federal Minister of Transport Andreas Scheuer emphasized that such a film-based solution offers numerous benefits: "Owners of small motorbikes can now simply apply their plates as stickers. This is citizen-friendly, practical and conserves resources."
Commissioned by the Association of the German Insurance Industry (GDV), Schreiner PrinTrust developed an innovative self-adhesive plate specifically as proof of insurance for application to small motorbikes. The product features a film applied to a plastic substrate. Previously, in 2018, PrinTrust had created a corresponding solution for electric scooters as a development partner and the first manufacturer of such a product in the marketplace.
In addition to its simple and flexible application, the film-based solution saves resources because in subsequent years the plate can just be applied on top of the previous one. Currently, more than two million aluminum plates are produced per year. As the production of aluminum is extremely energy-intensive, the utilization of adhesive plates significantly reduces environmentally harmful CO2 emissions. The lower weight and reduced space requirement of the thin film also simplifies logistics, while the film-based solution is equally weather-resistant and robust as the
previously used metal plates, as confirmed by Fraunhofer IFAM (Fraunhofer Institute for Manufacturing Technology and Advanced Materials) in its closing report "Expertise Pertaining to a Film-Based Solution for Insurance Plates." The plate-integrated hologram is another special feature. It serves as a security element and therefore, unlike conventional plates, provides protection against simple counterfeiting attempts.