Secure Seal
SCHREINER PROSECURE
Secure Seal
All of us come into contact with parcels and packaging practically day in day out. Packaging that keeps its contents "safe and sound" is a requirement to be met not only for consumer goods shipped by the growing number of online retailers but especially for food and, even more so, for drug products. The risk of counterfeits going undetected is particularly high in the pharmaceutical sector because it is impossible to tell just by looking at it whether or not a tablet or a liquid inside a syringe or vial contains the substance it is supposed to deliver. Since 2019, the pharmaceutical industry has been required by law to ensure that the first opening of packaging for prescription drugs remains irreversibly visible. Closure seals are excellently suited for this purpose. Schreiner MediPharm relies on the expertise of Schreiner ProSecure in this context: The competence center draws on extensive know-how and a wealth of experience in the design of perforations that minimize the force needed to open the seal while ensuring its required stability.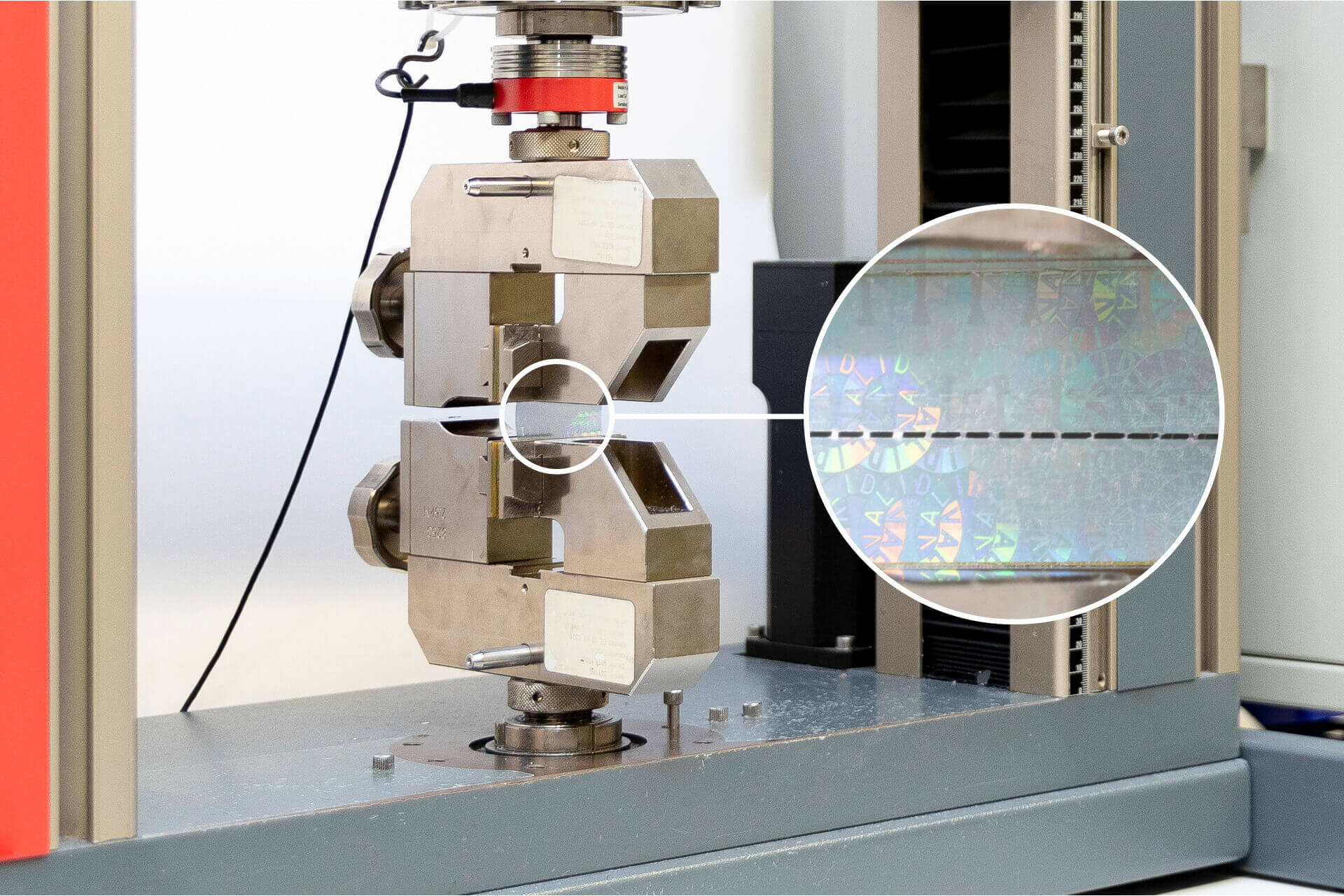 Packaging closure seals feature particularly sophisticated designs. Serving as first-opening indication and tamper evidence, they have to be strong enough to withstand mechanical stress without tearing, for instance during shipping, loading and warehouse operations. On the other hand, they must be easy enough to open so that they will not pose a problem even to older people.
A pre-cut perforation facilitates the tearing of the closure seal. The force required for the seal to tear depends on the type and thickness of the film, the width of the seal, and the geometry of the perforation. The required minimum retention force can be derived from the box content, the length and width of the face side of the folding box, and the anticipated mechanical stress it will be exposed to. In addition to in-house findings obtained in user tests, there are international standards that apply to such stress factors.
The closure seals developed by Schreiner ProSecure are designed to be as robust as necessary and as easy to open as possible. In addition to reliable and effective design of the closure seals, the competence center offers formal qualifications as needed for which transportation tests are performed in certified test laboratories according to applicable standards and the suitability of the closure seals for the envisioned purpose is certified.
Closure seals must be as robust as necessary and as easy to open as possible.