Medication Adherence Monitoring: New Smart Blister Wallet with 64 Cavities
SCHREINER MEDIPHARM
Medication Adherence Monitoring:
New Smart Blister Wallet with 64 Cavities
Compliance with prescribed medications is decisive for the success of a therapy–especially in the case of clinical trials. Smart Medication Adherence Monitoring solutions are digital tools enabling pharmaceutical manufacturers to track compliance of their trial participants automatically. With the 32-cavity Smart Blister Wallet, Schreiner MediPharm already has a solution in its portfolio providing the requisite digital support. For greater flexibility, the Blister Wallet is now extendable to 64 cavities that can be individually tracked electronically.
The new Smart Blister Wallet featuring twice as many cavities as before can be implemented for all blister designs as well as for two- or multiple-fold blisters. Schreiner MediPharm supplies the cardboard box including integrated conductive tracks and printed circuit board to the pharmaceutical manufacturer or contract manufacturing organization (CMO). They can process the smart packaging as usual and fill it with the respective tablet blister. For patients and healthcare professionals, the extendable version is equally comfortable to use: easy push-through removal of tablets, simple NFC-based data reading at just one point on the wallet–irrespective of the number of blister cards it contains.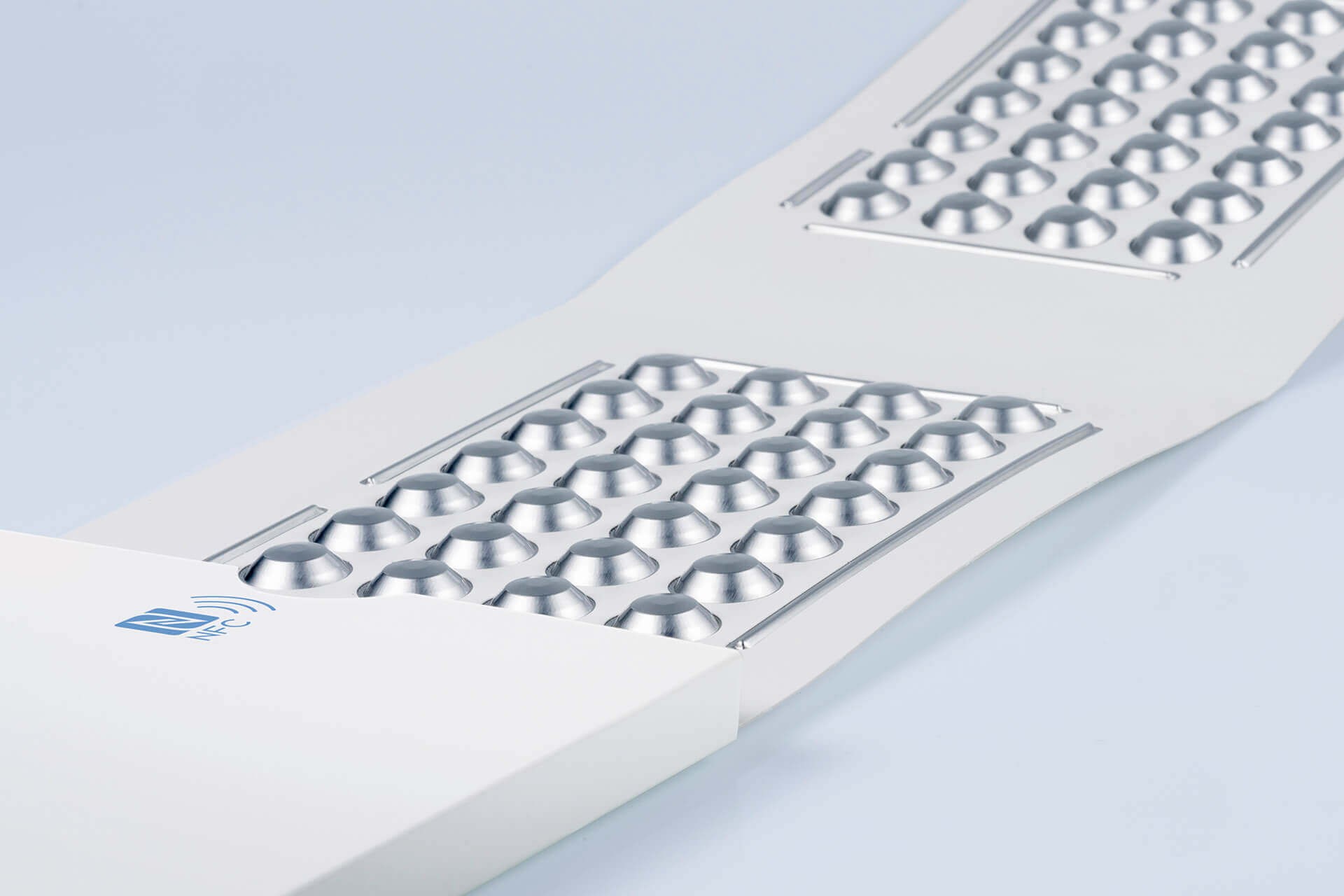 With the 64-cavity Smart Blister Wallet complex therapies and international trials can be adjusted more flexibly.
For clinical research, the digital Smart Blister Wallet offers key advantages:
Better and more reliable data quality
Lower failure rate due to non-adherence
Faster time-to-market: shorter trial period, reduced costs, accelerated approval process for new drugs
More efficient processes due to reduction or elimination of manual work such as documentation by hand and counting of pills
With the 64-cavity Smart Blister Wallet pharmaceutical manufacturers gain even greater flexibility in adjusting complex therapies and international clinical trial workflows. The solution is also suitable for commercial applications and allows for scalable production.
How Medication Adherence Monitoring with Smart Blister Wallets Works
The patient pushes a tablet out of the blister pack. Data such as type of medication, time/date of removal, dose, and the relevant cavity are generated and automatically stored in the pack. Data transmission occurs via NFC or Bluetooth either centrally at the trial clinic or by the patient using a smartphone app. This enables tracking of the trial participant's compliance.
Medication reminders can be sent to the patient and the therapy plan may be adjusted for all patients as needed. Specialty control software enables central tracking of all participants in the clinical trial as well as documentation and analysis of the data obtained.