Digitalizing Syringes with Cap-Lock plus RFID
SCHREINER MEDIPHARM
Digitalizing Syringes with Cap-Lock plus RFID
While digitalization continues to make headway in hospitals, product solutions with integrated RFID technology are required to accelerate the digital transformation process. Schreiner MediPharm supports this trend with a product evolution: The pharmaceutical label specialist has equipped Cap-Lock—its tamper-evident specialty label for prefilled syringes—with an RFID inlay. As a result, Cap-Lock plus RFID additionally enables digital first-opening indication as well as automated inventory and supply chain management.
Cap-Lock is a combination of cap adapter and label. The adapter is placed on top of the primary closure of the syringe and equalizes the diameter differences of the syringe body and cap. The label wraps around the syringe body and the cap adapter. Once the syringe is opened, the integrated perforation provides irreversible tamper evidence. Cap-Lock plus RFID has an additional label-integrated RFID chip embedded in the upper part of the label at the level of the cap. Because the chip largely sits outside the liquid-filled area it enables reliable long-range reading. Due to the RFID inlay, the previous, purely visual first-opening indication is now complemented by digital first-opening evidence. The RFID-Label is suitable for automatic application as part of the normal primary container labeling process. For live monitoring and control of the logistic material and product flow, the syringes equipped with RFID-Labels can be automatically read at various stations.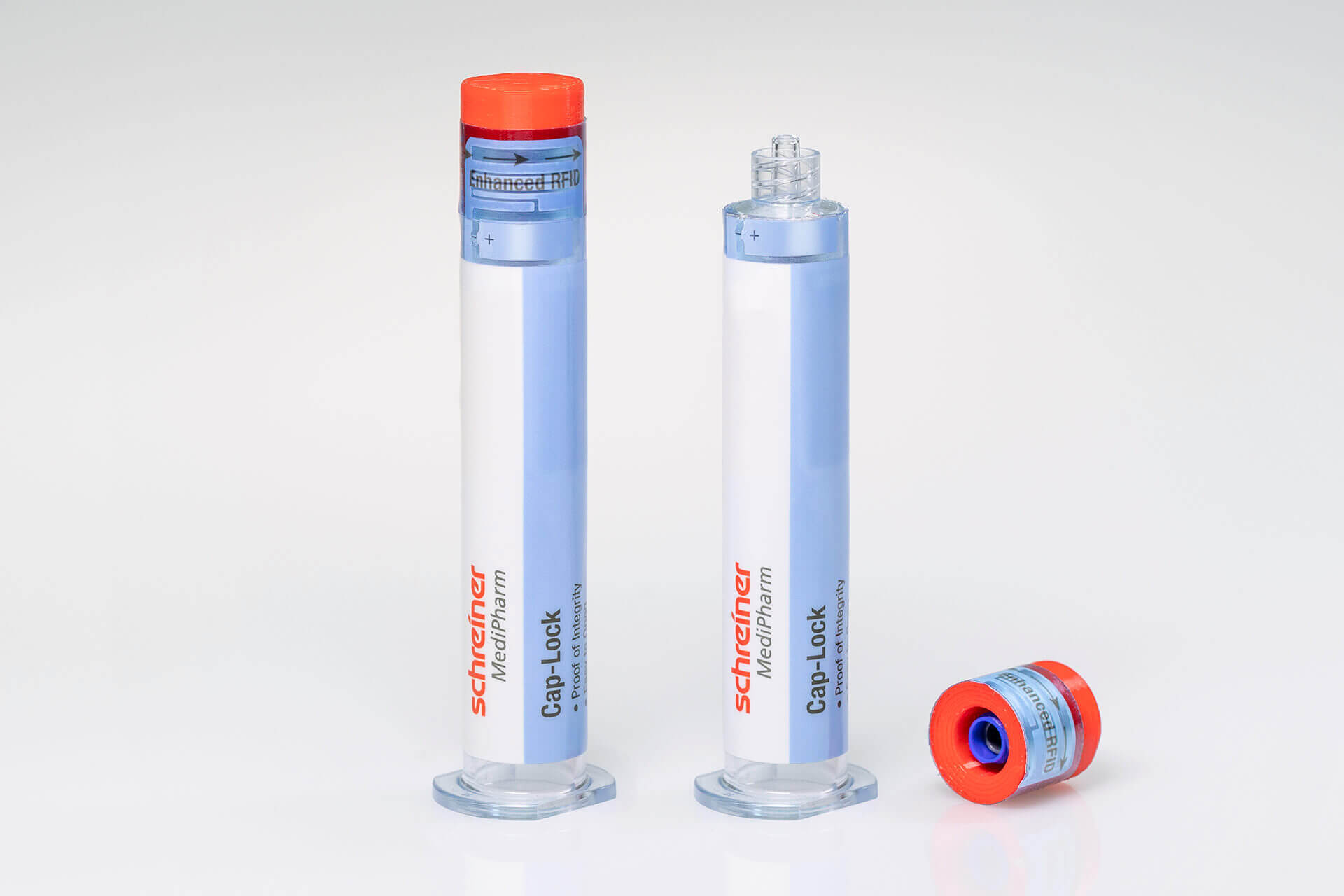 Efficient management and reliable authentication of medicines
Products that have been picked and placed are captured automatically so that current inventory levels are consistently stored in a database. For smooth medication management, the data stored on the RFID-Labels, such as product name, manufacturer, batch number and expiration date, are read automatically either individually or in bulk using simple handheld or specialty readers and matched with a database. This enables inventory tracking and provides transparency about medicines that are missing or approaching their expiration date. Thus, patients are protected against potential medication errors.