Digital Sustainability Report
SCHREINER GROUP
Digital Sustainability Report
Schreiner Group has been publishing an annual Sustainability Report for nearly 15 years showing how the company assumes responsibility for nature, people and society. Numerous examples demonstrate that environmental protection and sustainability are more than empty words for the company: The new office building at the Oberschleissheim headquarters was constructed as a "Green Building," CO2 emissions were reduced by more than 70% in the past seven years, and Schreiner Group has been actively supporting climate protection, energy efficiency and waste avoidance in numerous networks and associations. Another, smaller move toward a climate-neutral future was made this year. For the first time since its initial publication, the Sustainability Report will not be printed, but only be made available in digital form.
Since the beginning of 2019 millions of young people have regularly been taking to the streets to demonstrate for more climate and environmental protection. Following the role model of the young Swede Greta Thunberg, the activists of the "Fridays for Future" movement demonstrate for compliance with the global Paris Climate Agreement and express their dissatisfaction with the actions taken by governments so far.
Schreiner Group bears responsibility, too: responsibility for its employees, responsibility for society, responsibility for the environment, and responsibility for the climate, while shouldering these responsibilities day in day out. Last year, for instance, Schreiner Group was one of the co-founders of the "Zero Waste" company network that aims to avoid waste in general but to especially reduce—and ultimately totally avoid—disposable plastics.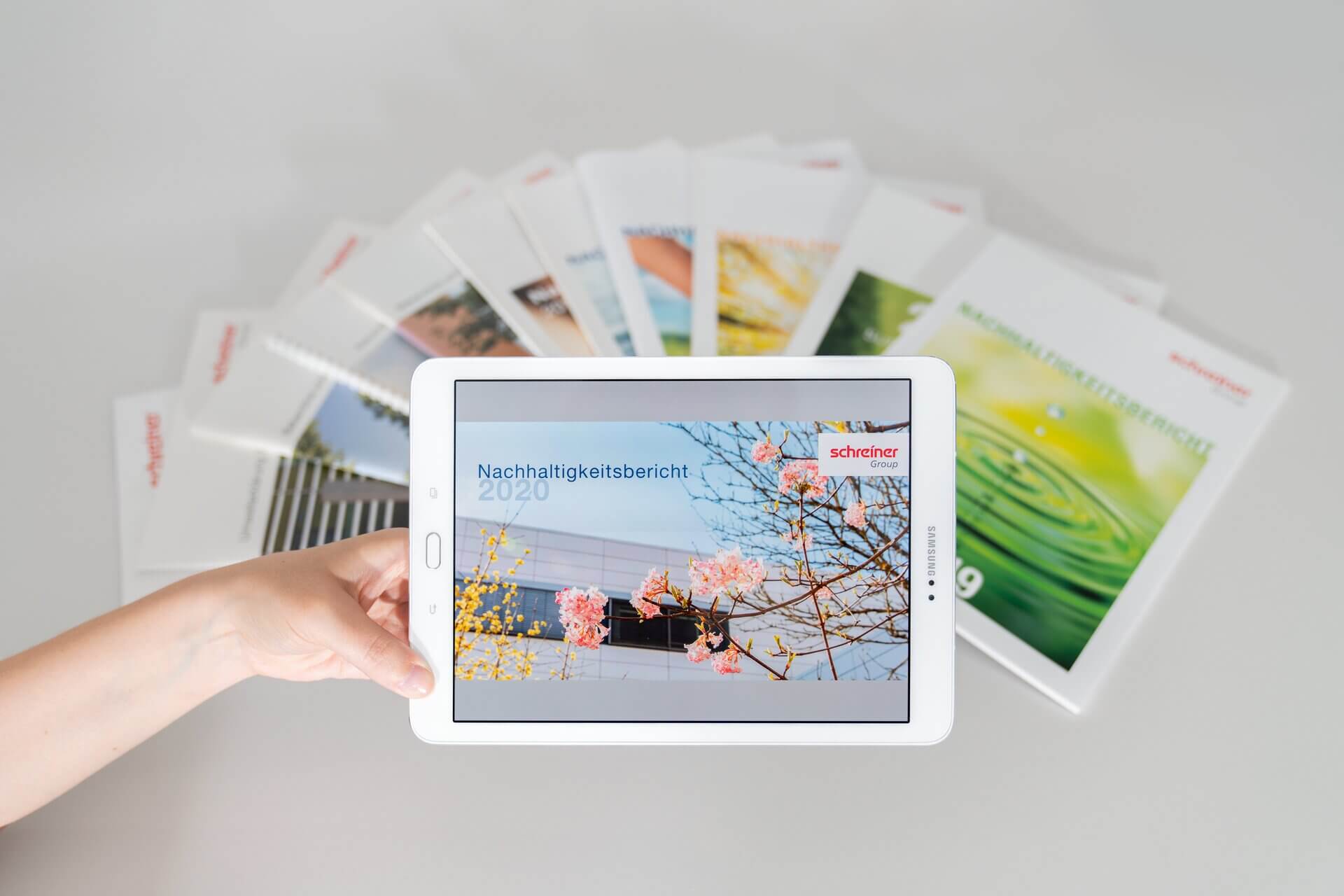 New standards
However, one of the most recent actions taken concerns the Sustainability Report itself that summarizes the company's efforts every year. Up to now, the report has always been published also as a printed issue. Starting this year, the Sustainability Report will only be provided as a digital version. To guarantee optimal legibility on a computer screen, the Sustainability Report has been redesigned and optimized for the digital format. Digitization and environmental protection go hand in hand here. If you'd like to learn more about the sustainability topics that are on the top of the list for Schreiner Group, just use this Link and take a look at our new, digital Sustainability Report.