A Visionary Full of Ideas: Anniversary as President and CEO
SCHREINER GROUP
A Visionary Full of Ideas:
Anniversary as President and CEO
"Continuity and New Beginnings." Guided by that principle, Roland Schreiner assumed the role of sole CEO at Schreiner Group in fall of 2012, starting out with a clear goal that he managed to pursue successfully: continuing to develop the "hidden champion" into an industrial high-tech company. These efforts have included a special focus on strategy, structure, and culture.
The following spread features highlights of the past ten years as CEO in pictures. However, Roland Schreiner decisively helped shape the family-owned company even before taking the reins. In 1999, he became president of the Schreiner MediPharm business unit and, since 2007, was additionally responsible for establishing and developing the Schreiner Group LP production site in Blauvelt, USA. A year later, he also joined the senior management board and assumed responsibility for all production operations. At that time, he discovered lean management as a forward-thinking concept for Schreiner Group and initiated its successful implementation. Concurrently, he extensively reorganized the sales organization and transformed four of the then seven business units into competence centers. The resulting matrix structure has been an essential element of the company's highly successful business development ever since.
Two highlights preceding his time as CEO: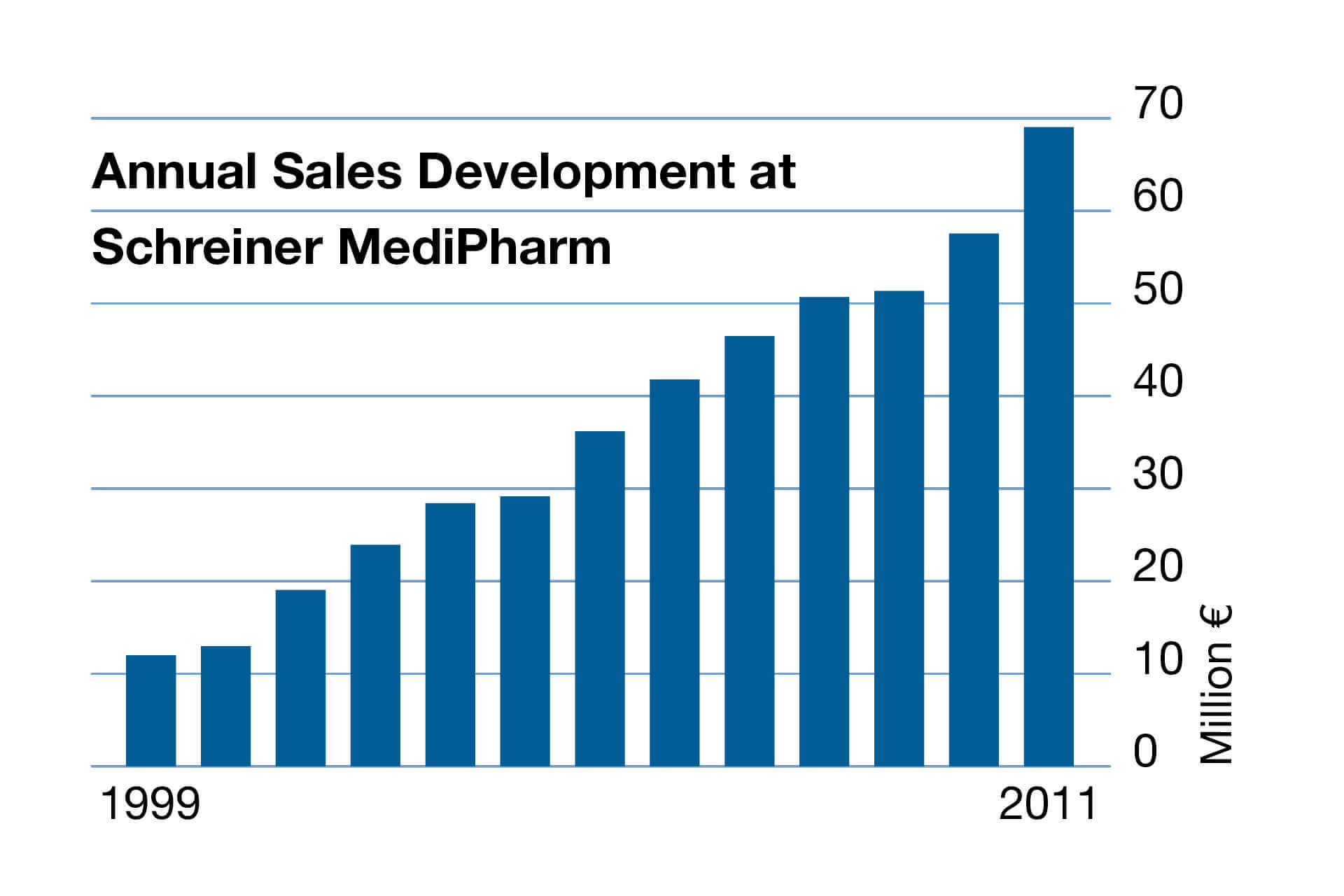 Roland Schreiner established the Schreiner MediPharm business unit as a highly capable development partner and reliable quality supplier. In 1999, annual sales of multi-functional specialty labels and marking solutions for the pharmaceutical industry and medical device technology amounted to some 12 million euros. In his 12 years as president of the business unit, Roland Schreiner, together with his then 70-member team, increased this sales volume sixfold, with average annual growth rates of 16.9 percent.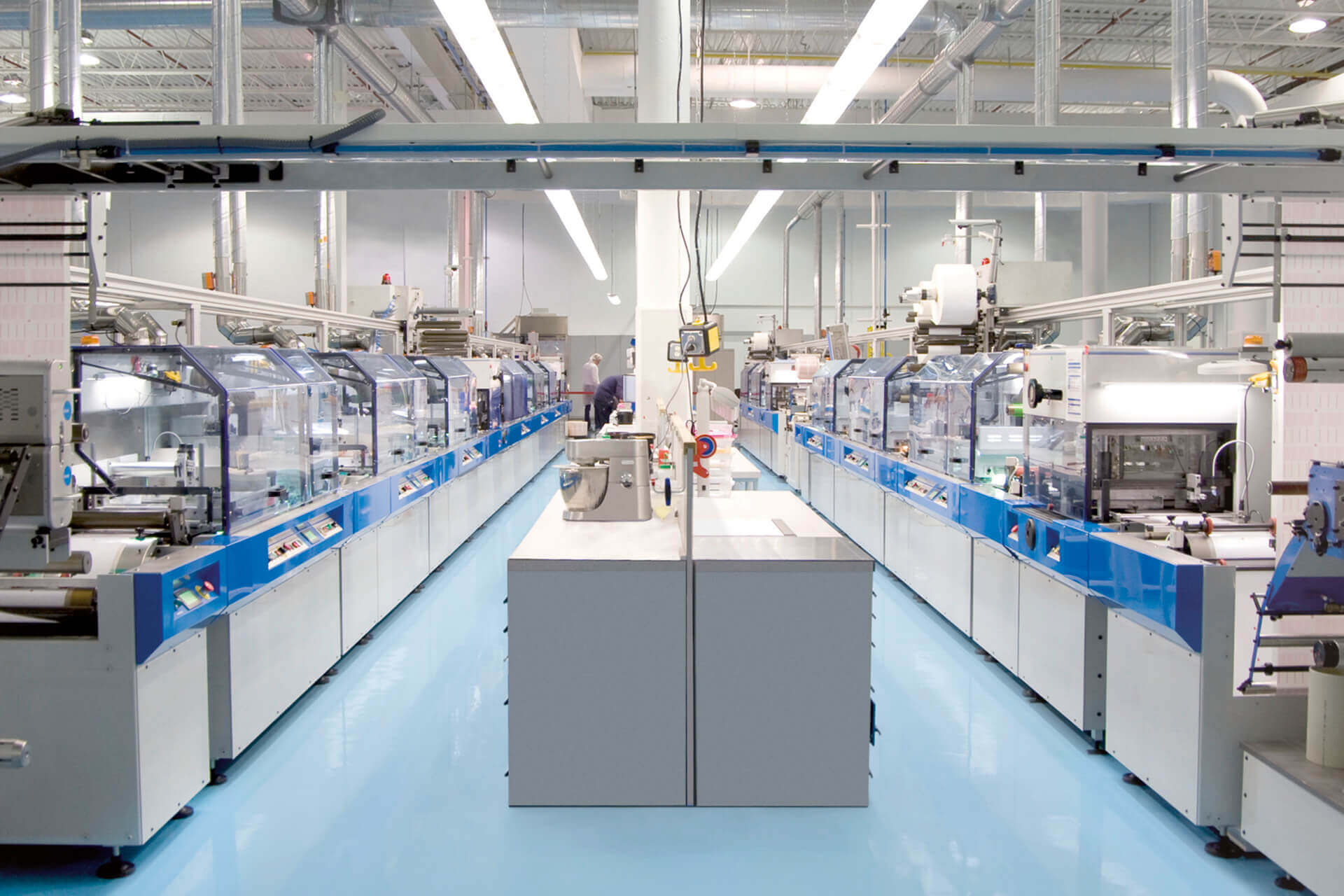 Roland Schreiner initiated and decisively drove the development of the first international production site. As a result of his international engagement, Schreiner Group opened a plant of its own in Blauvelt (New York) in 2008. Today, more than 70 people are working there in an area of more than 6,000 square meters.
In fall of 2012, Roland Schreiner took over the role of Schreiner Group's CEO from his father, Helmut. Annual sales of 125 million euros back then have since increased to around 200 million. Instead of 750, more than 1,200 people are now employed by the family-owned company. Plus, these ten years have produced plenty of other highlights:
Keen Interest by Political Leadership
Medium-sized companies are an important success factor of the German economy. As a prime example of the strong medium-sized business community, then Federal Minister of Economic Affairs Dr. Philipp Rösler selected Schreiner Group for a visit on July 23, 2013.
Top Apprentice: Outstanding Training and Education
Schreiner Group's apprentices have been shining time and time again: Dominik Wagner was the best marketing communications specialist in all of Bavaria in 2014 and deserved the special congratulations extended by managing shareholder Roland Schreiner.
Schreiner Group is "Innovator of the Year 2015"
Top 100 recognizes medium-sized companies for their innovation management. Schreiner Group particularly impressed the "Top 100" jury with "its transition from the second to the third family generation of senior management that was smooth and provided new innovation impetus."
China: Roland Schreiner Inaugurates Chinese Location
In a ceremony billed as "Inspired by Tradition–Built for Innovation," Schreiner Group opens a production site in China. "We attach utmost importance to the same standards and the same high level as in Germany at the Chinese plant," said Roland Schreiner.
Strong Growth & Family-Friendly
Shortly after winning the "Successful.Family-Friendly" award by the Bavarian Ministry of Economic Affairs and Labor, Schreiner Group won out in the "Bavaria's Best 50" competition against hundreds of companies, so ranking among Bavaria's 50 companies recording the strongest growth.
New Competence Center "Digital Solutions" Opened
Together with Bavaria's minister of economic affairs Ilse Aigner CEO Roland Schreiner opens the new Schreiner Digital Solutions competence center. Thanks to this new service unit, Schreiner Group has been providing even more comprehensive support to its customers on their digital transformation journey.
Second German Production Site Opened
In a festive ceremony, Schreiner Group officially opened its new production site in the Upper Bavarian town of Dorfen in 2019. With that, the globally active high-tech company is continuing on its course for growth—today, more than 70 people are employed at the site in the district of Erding.
Successful Forward-Thinking Employer
IKOM, the association of the Bavarian economy, and TU Munich recognized Schreiner Group as Forward-Thinking Employer 2020. The initiative honors responsible and sustainable management of medium-sized companies with this accolade.
"Entrepreneur Of The Year": Finalist 2021
In 2021, auditing and consulting firm EY recognized the best owner-managed companies in Germany with the "Entrepreneur Of The Year" award for the 25th time. Following a challenging selection process, CEO Roland Schreiner was a finalist in the prestigious competition.
A Visionary with a Wealth of Ideas
Outstanding prospects going forward: Thanks to Roland Schreiner, the international hightech company has a vision for the future and is going to continue its success story—especially with RFID solutions and printed electronics in the Healthcare, Mobility, General Industry, and Government Security markets. This is how we help make life healthier and safer, and enhance human mobility.